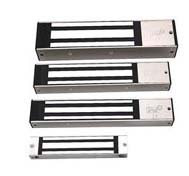 Maglock and Door Strike systems both get the same goals accomplished in limiting access. While they share this in common, that's about the only thing they share.
Maglocks & Door strikes are used based on the application and physical attributes of the doors that they need to control. Maglocks use a magnetic field to hold and release doors while door strikes use a mechanical mechanism to do the same.
Maglocks often require additional hardware to be added to ensure compliance with fire codes. Such hardware includes REX (right-to-exit) motion sensors and exit buttons as redundant forms of egress. Maglocks weakness is their inability to remain energized during power outages. They can be used outdoors and offer flexibility that strikes do not.
Door strikes on the other hand offer fail safe protection during power outages and can be set to stay locked. They require the specific door design to be implemented and often require the door frame to be modified to be installed.
When in need of these products, AAA Installation can help your Charleston business from design to installation. We work to achieve 110% customer satisfaction in every project.