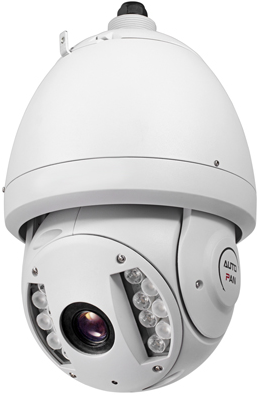 PTZ (pan-tilt-zoom) security cameras are use in a wide variety of applications where being able to cover large areas with few cameras is necessary. With one single PTZ camera, you can get facial recognition from over 450' away from the subject.
PTZ security cameras with new Level 4 IR flood emitters allow you to create light based on the focal length the camera is zoomed in on. This is especially helpful when lighting on your property is a concern.
PTZ cameras are designated by the zoom module that is included in the camera. We offer PTZ cameras in 20 X, 26 X & 36 X zoom capability. These cameras can be controlled over the internet when connected through a networked DVR.
You want to make sure that you are getting a solid warranty and know the company you're working with will be there to support you if the need arises. Most of the cameras that we offer include a 2-3 year Warranty from the manufacturer. With many moving parts and a higher price tag then dome or cylinder cameras, warranty and support are paramount.
Let AAA Installation work with you to design and implement a PTZ system that will meet and exceed your expectations.